Scotch broom is an alien invasive plant taking over huge areas of the Pacific Northwest and worldwide. Broombusters started on Vancouver Island, BC in 2006. Ten years later, 500 volunteers cut broom for over 4000 hours each year on Vancouver Island. There are many environmental problems facing us, but this is one we can do something about. Broombusters' strategies can be used anywhere on earth. Join us! Cut Broom in Bloom. More
Broom spreads rapidly and densely, chokes out native species, and prevents reforestation. It is a fire hazard & toxic to animals and the soil.  Broom quickly takes over fields, pastures, meadows and farms. A single plant can produce 18,000 seeds that last in the soil for 30-40 years. Broom seriously harms forestry, farming, tourism, our ecosystem & our health.
Broombusters is dedicated to controlling the spread of this alien invasive plant, to protect our native plants, farms, forests and future. The strategy of cooperation between individuals, communities, media, ministries and government is working.
Cut the Bloomin' Broom!

The high oil content in Scotch broom makes it highly flammable. Also, mature plants have increasing amounts of dead branches. The way broom spreads densely along roads and under power line corridors makes the fire situation very dangerous, especially with hotter, drier summers. When a wildfire hits broom, it is like throwing kerosene on the fire.
"Scotch Broom is a volatile flash fuel – particularly with the mature plants. The presence of Scotch broom will increase a wildfire's fuel load and escalate the fire's intensity, compromising fire situations and making them more difficult to fight."
Terry Peters Fire Chief/Director of Emergency Services, Powell River B.C.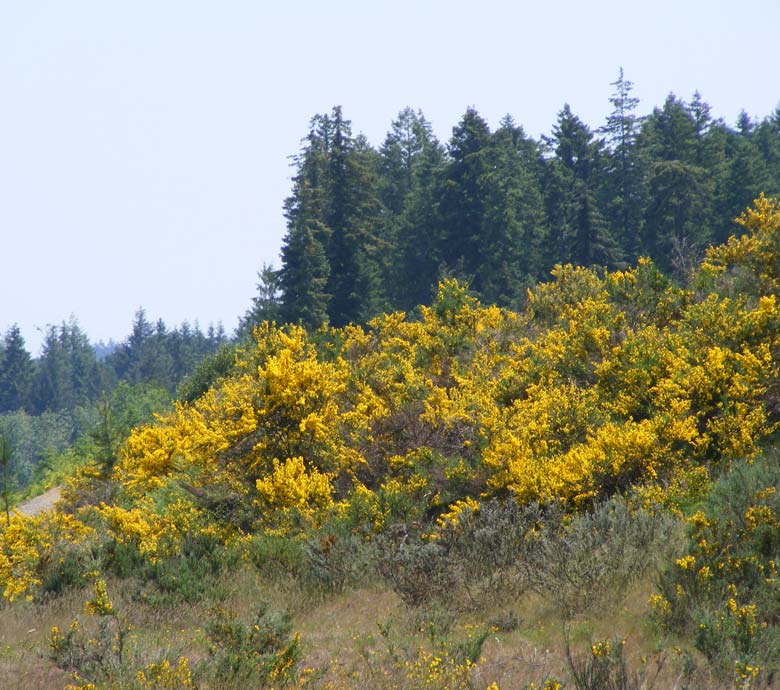 Broom thrives on disturbed soil, especially after trees have been cleared. The invading broom competes with young trees and planted seedlings. Broom grows fast, spreads quickly, and steals the nutrients and sunlight that the young forest needs to thrive.
"Scotch Broom invades rangelands, replacing forage plants, and is a serious competitor to conifer seedlings; Douglas fir plantation failures in Oregon and Washington have been credited to infestations of this plant." from Ministries of Forests, Agriculture, Environment, & Parks.
Known as the "Scourge of Pastureland", broom takes over pastures and becomes very difficult for farmers to eradicate. Broom is toxic to livestock, and quickly replaces the grasses that the livestock need. Broom grows large quickly, creating tripping hazards. World wide, farms are being abandoned because of Scotch broom.
Problems with Broom
Highly Flammable
Spreads rapidly & densely
Crowds out native plants
Leads to loss of diversity
Prevents forest regrowth
Toxic to wildlife
Takes over farms
How to Cut Broom Video
"Cut Broom in Bloom" with loppers at ground level. Cut, don't pull. Watch the video for details.
A Town Almost Broom Free
Qualicum beach is where Broombusters started. It is now almost broom free. Your community can do it too.
Get Involved!
You can help, as an individual, community or municipality. The strategy works. Find out how.