2022 Broombusting Events
in the Alberni Valley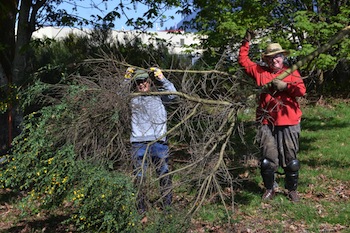 Community Cuts for Alberni Valley
THANK YOU FOR VOLUNTEERING!
Tools and Personal Comfort – We will have some loppers and high visibility vests to lend volunteers, but please bring your own if you have them.  A water bottle, gloves, long sleeves and sturdy footwear are recommended. Consider a hat and sunscreen.
Waiver – As with most volunteer activites, you will be asked to sign a waiver accepting full responsibility for yourself during your volunteer time. Please read before signing.
PORT ALBERNI:
June 9, Thursday, 9 – 11 am, at the median between Timberlane Road and Hwy 4.  Park on Timberlane Road below the Timberlodge.
June 11, Saturday, 9 – 11 am on Moore Road.  Turn right at the 4 way stop if you are driving out Cherry Creek Road.  We will continue cutting broom along towards the end of Moore Road.  Park where you see the broom beginning.
Completed Cuts 2022
June 4, Saturday, 9 – 11, Moore Road, to the right of Cherry Creek Community Hall, if heading out Cherry Creek Road.  Parking on Moore Road and at Cherry Creek Hall.

June 2, Thursday, 9 – 11, Twisden Road,  Right hand side  heading out on Beaver Creek Road, just past Smith Road.  Turn around at the end of Twisden and come back to park on the right hand side.

May 29, Sunday, 9:30 – 11:30, Wadena Road, across from, Beaver Creek Market, by the mail boxes.  Parking on Wadena.
May 26, Thursday.  9:00.  "Welcome to Port Alberni" sign towards the Chamber of Commerce.  Parking on Timberland Road
May 21, Saturday.  Starting from the Chamber of Commerce (please park in the Chamber of Commerce, lower parking lot) and working up towards the  "Welcome to Port Alberni" sign.
May 19. Thursday at Wadena by the Mail Boxes

,  finishing cutting towards Saunders Rd N. and then starting by the mailboxes again and proceeding towards Beaver Creek Road.

May 16, Monday starting at Cherry Creek Golf Course. 
When the Golf Course area is finished we will then go to the 4 way stop by Cherry Creek Hall at the intersection with Moore Road and proceed down Moore Road if time permits.  Please park in the upper parking lot at the Golf Course and at Cherry Creek Hall if coming to the Moore Road location. This is an invitation to all Cherry Creek residents to come and help.
SPROAT LAKE:
May 14, Saturday, 10am and 1pm. Ash Main and Stirling Arm Drive or at Avalon Farm, 8286 Faber Road.
Broombusters is holding a Sproat Lake community Broom cutting day. Please meet at 10:00am for briefing if you have not cut broom with Broom Busters previously. If there are enough volunteers, we will also have a group cutting in the area near Sproat Lake Landing, 10695 Lakeshore Road. Please register; you can choose your location or have one assigned for you.  Please email juliana.mccaig@gmail.com   REFRESHMENTS – Hot dogs and drinks will be available at the Sproat Lake Community Hall at 1:00pm. 
May 1 & 2, Sunday & Monday, 9:30 – 11:30  The City of Port Alberni has completed their purchase of the Dry Creek trail commencing at the Smitty's Restaurant. It needs some TLC.  The cut is on lower 3rd Avenue, Parking in the lot on the Budget side, between Budget and Smitty's Restaurant parking, in front of the piled broom. Extra parking available – over Dry Creek, right on Dunbar, in the empty lot on the right.  We have been requested to NOT park in the Smitty's parking lot. This is a large multi day project and we can use all the help we can get. 
May 5, Thursday, 9:30 – 11:30, Cherry Creek Golf Course, 6449 Cherry Creek Road.  Please park at the top of the parking lot, closest to Cherry Creek Road.  There is a fair amount of broom at this site, but with enough volunteers we should be able to get this done in 1 day and move on to other Cherry Creek Road sites if time permits.
May 9, Monday, 9:30 – 11:30, Saunders Road North off to the right of Beaver Creek Road as you are heading out, away from town.  Park near the posted signs.  If you live in the Beaver Creek area this is your chance to contribute a little closer to home.  Also looking for suggestions on other Beaver Creek areas to cut.
Apr 23, Saturday, 9:30-11:30. Starting at the Chamber of Commerce parking lot. In conjunction with PA Rotary Club Community Cleanup.
Some of Areas Cleared of Broom in 2021
SOMASS ESTUARY   In conjunction with the Alberni Valley Nature Club on the Ducks Unlimited Lands on the Somass Estuary.
Between No Frills and the Staples unloading bay.
Faber Road & Stirling Arm Drive
Thank you volunteers.
Make plans for cut broom removal before you cut!  Unfortunately, MOTI is not able to remove broom cut on the highways.  If you contact Broombusters in advance, sometimes we can help.  At the very least, we can offer advice on cut broom disposal.  To be a Broombuster, contact Broombusters first!  Cut at your own risk. Be safe and have fun!
Broombusters started in Alberni Valley in 2007, and then a pause until 2019.  Now volunteers are going strong and we welcome you to join us!