2021 Broombusting Events
in the Alberni Valley
Your help is appreciated anywhere in the Alberni Valley. Want to take part? Contact Juliana, Wendy or Sue.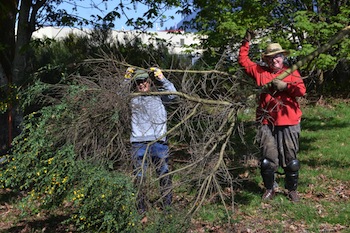 Community Cuts in
Port Alberni
WELCOME TO BROOMBUSTERS IN THE ALBERNI VALLEY
 If you would like to cut broom with a group or on your own, please get in touch with Wendy, Sue or Julianna for directions regarding tools, cutting and stacking in this unusual year.
Faber Road & Stirling Arm Drive– ONGOING throughout May.  A group of individuals has been working to remove the broom along Faber Road and Stirling Arm Drive.. Your help in stopping broom from surrounding Sproat Lake would be greatly appreciated!  Even 2 hours a year.  Contact Julianna.
Mid April - May 2021
 May 4-6, 8:30-noon. Tuesday, Wednesday and Thursday, in conjunction with the Alberni Valley Nature Club, we will be having a Community Cut on the Ducks Unlimited Lands on the Somass Estuary.  Contact Wendy to let her know you want to participate. 
The land is fairly wide open, with several different separate  areas, so there is lots of space for social distancing and if we get enough people we may be able to get the majority of it done next week.  We have arranged for a quad with trailer to move some of the broom to the roadside after we are finished with cutting, but if anyone has a smaller truck that would also be very helpful.
We have 6 pairs of new very sharp loppers to lend out and you will be asked to read the COVID protocols and sign a new waiver.  (Please print and bring the signed waiver with you.  If you cannot print, Wendy will have some.  
We will be on site and cutting broom from 8:30 until at least Noon each day.  Some things to bring with you/come prepared with:  Sunscreen,  bug repellant and long sleeved clothes with pants tucked into socks to ward off mosquitoes and ticks, water, and perhaps a snack for sustenance. 
Driving directions are as follows:
From the orange Bridge (now grey) take the first left onto Tsuma-as Drive and drive past the Tseshaht Band office to a stop sign at the top of a hill. Go straight through keeping left along the river. 400m from that stop sign there is a gravel road that forks off to the left. Follow that gravel road and drive to the gate. There isn't much room to park. There is a small turn-around spot and  you can park on the side off the road.  
If the gate is open please drive thru to the cutting area.  If the gate is locked we will have to park outside and it is a short walk in.
Contact
Wendy Friberg
Email: wendyfriberg@gmail.com
Sue Thomas
Email: suzyqt@telus.net
Faber Road area:
Juliana McCaig
Email: juliana.mccaig@gmail.com
Phone: 250-723-7621
* Disclaimer: Pick up of Broom MUST be prearranged. MoT will not come to chip up broom you cut. BroomBusters may be able to help if you contact us in advance. Broombusters posts this page free of charge to your community but is not responsible for any activities listed or not listed in these communities. Cut at your own risk. Thank you. And have fun! We look forward to hearing from you.