Thanks for visiting our website! Broombusters is only as effective as its volunteers.  We welcome you to take part. Please contact the Director or an area organizer below.   Would you like to cut broom in your community or start a Broombuster group where you live?  Contact us!  You'll be surprised at the difference a small group can make.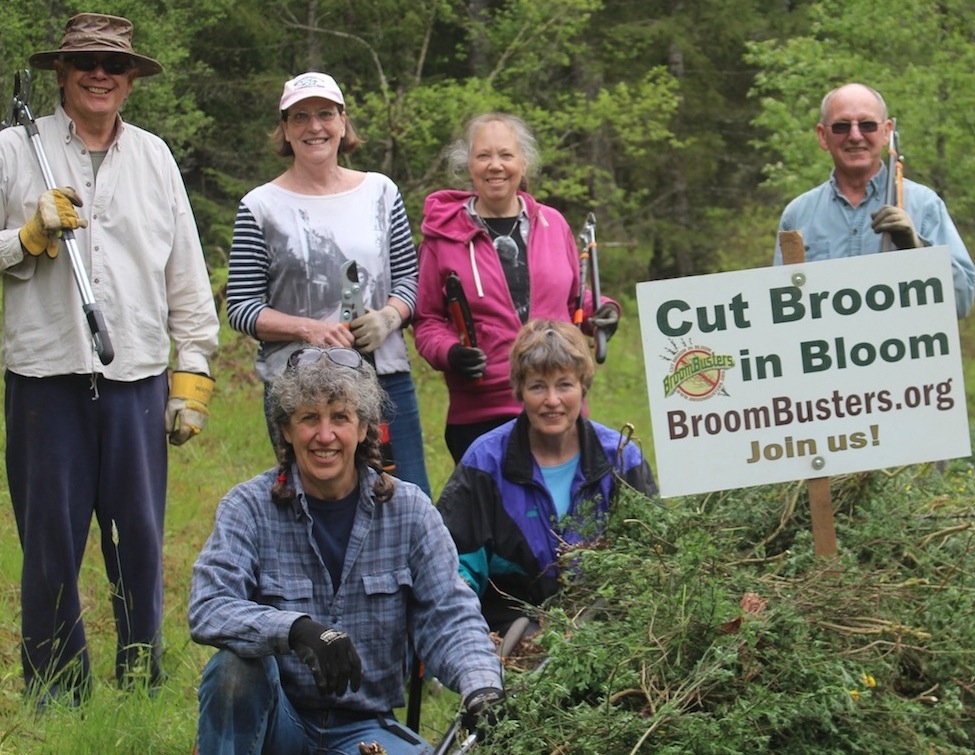 Email addresses are written out.  Use the usual form with @ and "."
Executive Director: Joanne Sales 
joanne@glasswing.com
250-752-4816
Oceanside, British Columbia
Contact Joanne for all other areas.
Comox Valley:
Bev Agur  / 250-871-2027  / cvbroombusters at gmail.com 
Nanaimo & Lantzville:
Nancy Lutes / lutes2021 at gmail.com
Lantzville:  Sharon Ahokas / sahokas at shaw.ca
North Qualicum:
Betty & Alf Jablonski / ab at icbsolutions.ca
Parksville:
Don Standing / standing at shaw.ca
Port Alberni:
Wendy Friberg / wendyfriberg at gmail.com
Sue Thomas / suzyqt at telus.net
North Cowichan:
Chemainus: Brian Linton & Sherry Tompkins / tomkinslinton at shaw.ca
Maple Bay: Wendy Macpherson / macpherson15 at yahoo.ca
South End & Duncan: Jan Dwyer: / jandwyer at shaw.ca
Campbell River:
Morgan Ostler – 250-202-7590 / msostler at telus.net
Also contact Greenways Land Trust
Broombusters' mission is to educate and empower communities to contain the spread of Scotch Broom. It serves as a liaison, linking municipalities, districts, media, ministries with concerned members of the community. Broombusters' strategy of education, inspiration, organization, media involvement and volunteer support culminates in intense 6 week period when residents go out and cut broom in their community. It works!
Broombusters purpose is to:

Executive Director: Joanne Sales
Enable, connect, and empower people to take on the task of controlling Scotch broom.
Inspire and offer opportunities for community involvement and environmental stewardship
Serve as a liaison between government, media, communities and individuals
Provide information, publicity, a website, tools and support to help communities be successful.
Protect the native plant species and animals of British Columbia; to protect and reclaim pastures, meadows and forest lands.
How Does Broombusters Work?

When cut down in bloom, Scotch broom plants usually die, and the flowers are prevented from going to seed. For 4-6 weeks each year, usually late April-May, while Scotch broom is in bloom, Broombuster volunteers go into chosen roads, parks and fields with loppers in hand, to cut down broom.
Broombusters helps in many ways, that may include education resources, supplying tools, helping with publicity, organization for community cuts, providing promo materials, website listings, demonstrations. coordinating with local governments, and providing an information resource to inspire your community.
Broombusters does not pull broom or dig into the soil as that exposes bare soil, causing the long living seeds from past years to sprout. Fortunately, Scotch Broom is a soft woody weed, and not difficult to cut. So we Cut the Bloomin'Broom!
Reminder
Broom is a fire hazard, before and after it is cut. So plans need to be made for cut broom removal BEFORE you cut.* Contact Broombusters or your local government for information.
* Disclaimer: Pick up of Broom MUST be prearranged. MoT will not come to chip up broom you cut. BroomBusters may be able to help if you contact us in advance. Broombusters posts this page free of charge to your community but is not responsible for any activities listed or not listed in these communities. Cut at your own risk. Thank you. And have fun! We look forward to hearing from you.